Field Photography Workshops / Tours
NEW- February 22-24 Yosemite Semi-Private Tour – SOLD OUT
I will only take 4 people, offering us amazing camaraderie and teamwork. The intention is to enable you to experience the type of photography experience often reserved for my close friends and fellow pros. This will be a budget friendly trip with total immersion into the photographic experience, day and night. We will share in decision making, scouting and shooting. Weather, as always, dictates our shooting choices. This is the right time of year to capture the famous "fire fall" (conditions permitting). While I will be shooting with you, my main focus is your learning experience! You come first. I get us there, get us set up and answer EVERY question. I am working for you:)
Call me for specifics and to reserve your spot 530-545-2896.
Cost: only $479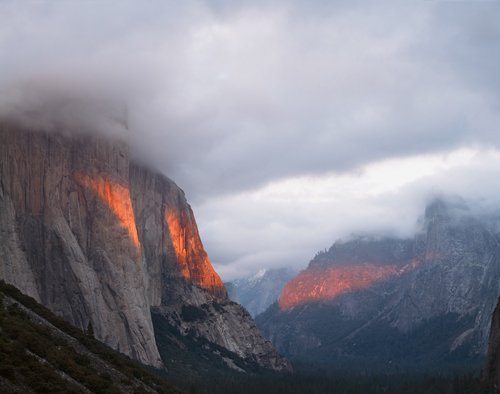 Grand Teton National Park Workshop / Tour Dates Set! (see flyer below)
Grand Tetons in the Spring, 2013:
June 20-23:
This will be a four day adventure focussing on iconic Teton landscape images, as well as wildlife photography (baby critters will be out and about). Along with putting us in the right place at the right time to capture our dream photos, I will be teaching about composition, exposure, light, perspective and proper technique. 100% of our time will be spent in the field, where we will learn while doing. While our days are long and tiring, they are also extremely rewarding both photographically and personally. Comeraderie is a huge part of our experience. We will have a great time in a world class wilderness environment and come away better photographers for it. This will be limited to a small number of participants so everyone has all the personal attention required to get the most out of the experience. This is not a physically demanding tour, but participants should be able to walk on uneven ground. You will be expected to rise early to start the day, and be considerate to the groups time requirements in order to ensure that we can meet our "magic light" timelines!  Please call to discuss any details that may help you make your decision.
Dates: June 20-23, 2013
Cost: $975
jonpaul@jonpaulgallery.com
530-544-4269
NEW Private Workshop Days available in both Grand Teton and Yellowstone!
I have added the option of private, one-on-one workshops, both before and after the official Grand Teton dates. I will offer these private sessions at the same price as my local private sessions!
Call to arrange your custom dates 530-545-2896.
Cost: only $500/day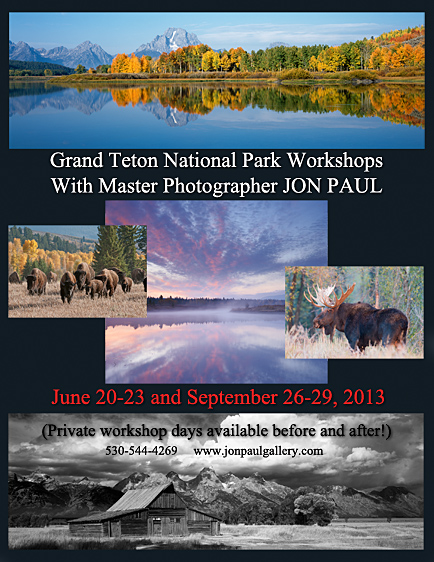 Winter in Lake Tahoe
I have left a large number of dates open and available for private one-on-one or small group workshops / tours here in Lake Tahoe (or wherever you would like). This is a beautiful time of year to photograph Lake Tahoe, aspen groves, rivers, waterfalls, ice patterns, mist, black & white, sunrises and sunsets. The sun is low in the sky, providing soft light and long shadows. We can generally shoot a little later in the morning, and earlier in the evening. Snow and ice provide a new look to the land, and very different opportunities for familiar subjects. Composition and metering, along with managing the cold and snowy conditions, however, become unfamiliar. Join me in the field and allow me to share my experience with you. Let's create some unique images, while I help you gain confidence in the snow covered photographic world!
Cost: $750/day only $500/day
Spring in Lake Tahoe
Dates will be announced shortly! Private workshops / tours are still available!
This is the most popular time of year to photograph Lake Tahoe! A majority of my signature Lake Tahoe images were composed at this time of year.
Often the lake is calm, providing iconic clear water images, along with beautiful sunrise and sunset reflections. Waterfalls are rushing with snow melt, rivers are full, and there are still very few visitors. We have the place to ourselves! Honestly, this is the stuff photographers dreams are made of:) Please join me, as I share the most outstanding locations to photograph in this region, along with my knowledge and understanding of the art of landscape and wildlife photography. As one of the few successful gallery photographers in the country, I have a different approach to this art. I am not attempting to create huge volumes of work to fill magazine space. Nor am I attempting to produce "digital art" from mediocre images. I will share with you the simple steps and tools necessary to capture "the fine art of nature", eliminating the intimidation factor of the digital world. All questions are answered, as we learn by doing. Let's look through the lens together, create amazing images, and learn to become more successful photographers in the field.